We are currently very short staffed within our Admin team due to COVID-19.
If you are calling with a non-urgent query please contact us using the online forms on our website, using the Birmingham & Solihull Health App or email us at request.bournbrook@nhs.net and we will endeavour to respond as soon as we can.
The 111 online and phone service can also offer help with many illnesses.
If you need to speak to a receptionist please hold and we will answer your call as soon as we are able
Welcome to Bournbrook Varsity Medical Centre
We are friendly NHS GP surgery who focus on providing excellent care for our local population. We are open for new patient registrations and you can register online.
We are situated in the heart of Selly Oak, next to Birmingham University. We provide care for many students, but also for local families and those with no links to the University.
Appointments can be booked on the day or in advance. We provide telephone, video, and face-to-face appointments. We also provide home visits to those who can't get to the surgery.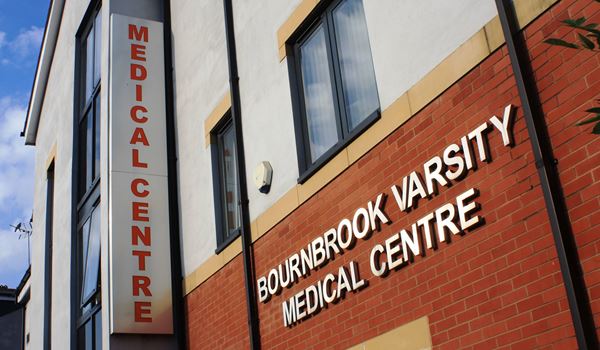 Keep Up to Date With the Latest Practice News
Newsletter
To receive future editions of the newsletter straight to your inbox sign up below.